Last night I had the extreme pleasure of being invited to Citi Field to sample the "All Star Dining Line-up" of food available at the stadium in '12.
I will be posting pictures over the next few days and into next week (I am taking a family vacation then so a pre-written generic post about a chicken sandwich goes a long way, and yes I will be at Opening Day – come on.)
This morning I'm working off my iPhone which isn't my favorite way to process photo-based posts but I'm out of time in real life so I'll do the best I can.
Enough pre-amble, here's what you have wanted to know all off-season: the 2012 beer list.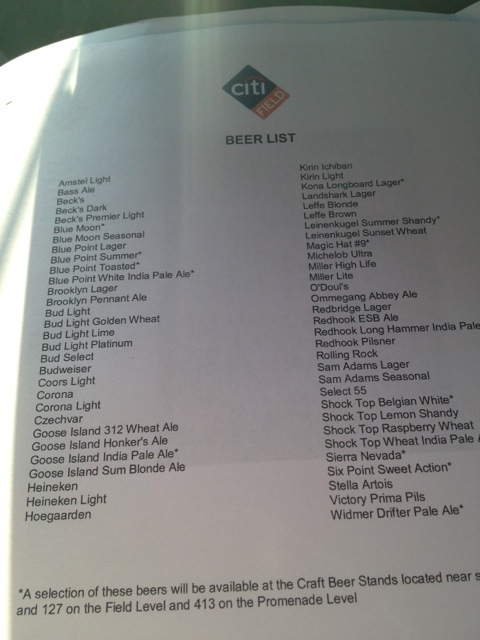 @ceetar the beer-snobbiest of the bloggers was at the event and seemed pleased with the list. I'm sure he will write something up and I will link to his post later.
As for me, I like a good beer (Mets Police advocates having zero to two beers max, not nine. You should behave like a civilized human. Feel free to spend that extra cash on blue based merch). Just the Sam Adams Seasonal will get me through the summer, but the Blue Moon and Six Point also catch my eye.
Much more to come.
…
April 2013 – thanks to Deadspin for linking to this post! And while I have your attention, my eBook is called Send The Beer Guy (I am an ex-vendor) and only $4.